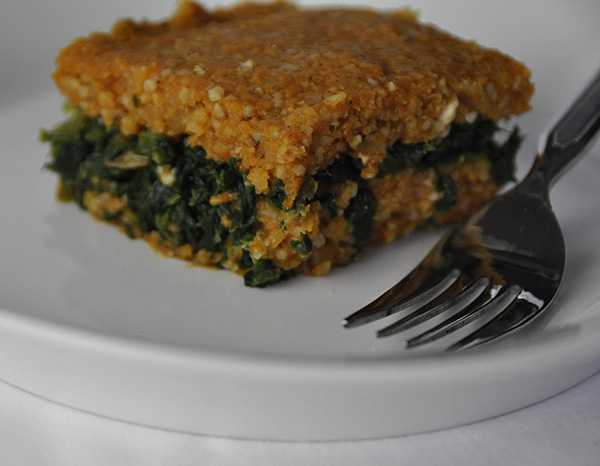 Pumpkin Kibbee
FOR THE KIBBEE:
1 package JEMILA Kibbee Mix
16 oz. canned pumpkin
1 cup flour
1 1⁄4 cups cold water
all-spice or cinnamon, to taste (optional)
FOR THE FILLING:
1⁄2 lb frozen spinach, thawed
1 small onion, diced
1⁄4 cup olive oil
1 oz. crushed pecans or walnuts
juice from 1⁄2 lemon
1 teaspoon salt and pepper, or to taste
• Soak Kibbee Mix with water for 20 minutes.
• Mix in all other kibbee ingredients, knead well.
• Divide kibbee in half set aside.
• In a separate bowl mix all filling ingredients together.
• Layer 1⁄2 of kibbee evenly in bottom of a greased 1⁄2 size steam table pan (approx. 10" x 7 1⁄2"…other sizes work).
• Spread filling evenly on kibbee layer.
• Cover with remaining kibbee. TIP-Form remaining kibbee into patties and piece together on top of filling. Smooth top by drizzling lightly with cold water and rubbing with bottom of a ladle or fingers.
• Cover with a thin layer of olive oil.
• Poke a hole about 1⁄2" diameter, in the center, from top to bottom with handle of a wooden spoon.
• Bake at 375 degrees for 25 minutes or till top middle begins to brown.
• Let cool, cut into squares and serve.